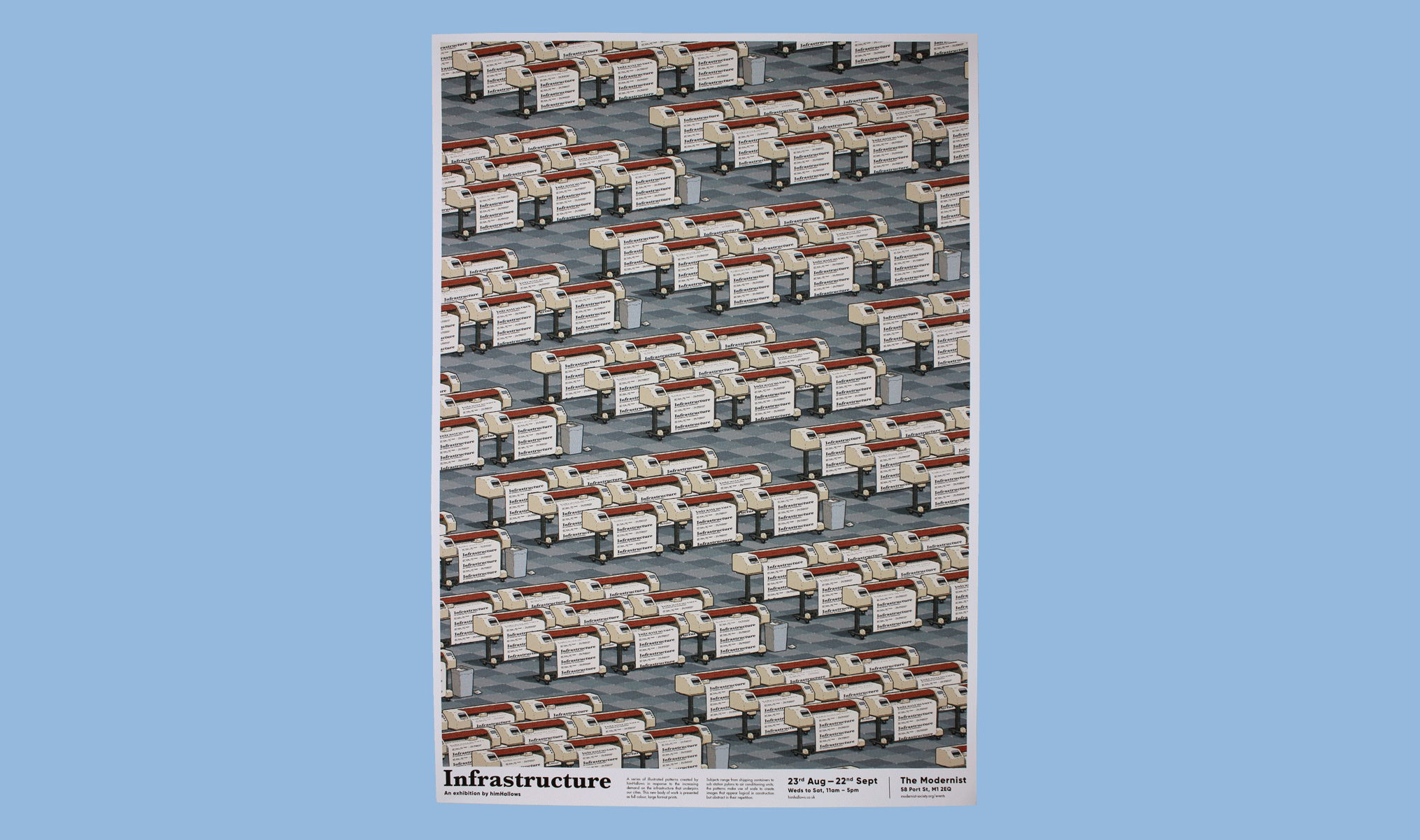 ...


INFRASTRUCTURE
Exhibition supported by The Modernists

Large Format Prints & More


A series of illustrated patterns responding to the increasing demand on the infrastructure that underpins our cities. Subjects range from shipping containers to sub station pylons to air conditioning units; the patterns make use of scale to create images that appear logical in construction but abstract in their repetition. The exhibition consisted of large format prints and a collaboration piece with
SewWhatMcr
on show at the
Modernist Gallery
(58 Port St, Manchester), it ran from the 23rd August to the 22nd September 2019.
"This deeper undercurrent to himHallows' work takes the reassuring mix of interlocking shapes and structures to a more sinister level, and highlights our tendency towards excess and a desire to push for more regardless of the impact. This mindlessness is emphasised by the precise repetition of the objects depicted.

At a time where industry, climate change and its effects are being seen, felt and predicted on a daily basis, himHallows' work feels timely and it's an interesting visual study of a growing problem."
Creative Review
Full interview
here
.
Infrastructure Exhibition Trailer
Animated Short

Promotion for the show is a series of 10 posters. Each poster features a different frame of animation that has been animated together to create a moving poster for online and video use.
FEATURED PATTERNS



...


FROM _______ TO ________ SUBMISSION
FromPeterloo/Peoples History Museum
Envelope + A2 digital print


The subject is the pattern of violence that occurs when the government uses water cannons and other military means to suppress civilian protests, an apt subject given this years marks the 200th anniversary of the Peterloo protests. From their continued barbaric deployment in Northern Ireland to politicians such as like Boris Johnson arguing for their use in London and elsewhere.
Exhibition runs to the 8th September.
.

...